Monday 25 Oct 2021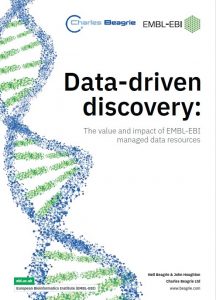 We are delighted to say that our latest report is now publicly available and free to download from the European Bioinformatics Institute (EMBL-EBI). "Data-driven discovery: the value and impact of EMBL-EBI managed data resources" covers 44 open data resources in the life sciences managed by EMBL-EBI.
It is the largest assessment of its type and the work is the culmination of some 10 years of studies by Neil Beagrie and John Houghton assessing the value and impact of open research data. More than 4,900 researchers participated in the study survey, making it one of the largest recent surveys covering open data and open research.
The latest impact assessment was done in 2020-21 and provides a successive snapshot in time after a similar report for EMBL-EBI in 2015-6.
The key takeaway messages of the new report are:
Significant increase in users (more than double) and their intensity of use since 2015-16;
Major increases across all measures of value and impact since 2015-16;
We found that EMBL-EBI managed data resources present exceptional value for money in terms of the value returned and impact compared to the costs of running them.
You can access the full press release on the study, the Executive Summary, or the Full Report from EMBL-EBI here
0 comments neil | Uncategorized
Leave your Comment